GCBO August e-news

August, 2016
XHX is Coming!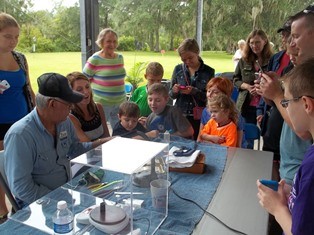 It's that time again. We are gearing up for Xtreme Hummingbird Xtravaganza in September. The first Ruby-throated Hummingbirds making their way south for the winter will arrive this month. They will continue through the end of October so if you are a hummingbird enthusiast, its time to get ready. We will hold our XHX event at the peak of their migration, the middle two Saturdays of September, the 10th and 17th. The success of this event depends greatly on volunteer participation so if you want to volunteer to help, contact Carol.
---
Smith Point Hawk Watch Begins 20th Season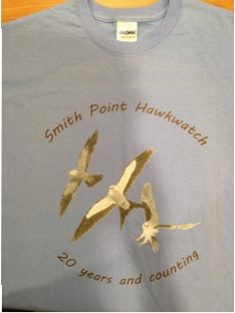 The Smith Point Hawk Watch begins its 20th season today! Bob Baez has returned this year and is ready to start counting those raptors as they pass. He will be on the tower from 8:00 to 4:00 each day and will be happy to show you birds, give id pointers, sell you a t-shirt, or just have a good chat about birds. This year to commemorate our 20th season, we have new t-shirts with a fantastic kite rendition painted by Cin-Ty Lee (shown above). The shirt features the three most observed kites at Smith Point including Swallow-tailed, Mississippi, and White-tailed. Pick up yours today for $20 and support the hawk watch! We need volunteers to record, count, spot, or keep the Bob energized on slow days. Bob enjoys teaching hawk identification but it works best if volunteer counters have some bird watching experience. Recording and spotting only require enthusiasm! If you can volunteer this year, please contact Sue.
---
GCBO Receives NFWF Grant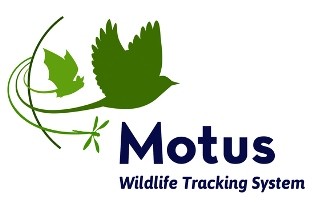 We were recently notified that we were awarded a $137,000 grant from the National Fish and Wildlife Foundation to install approximately 15 Motus towers along the upper and central Texas coasts as a collaborative project with the Texas Mid-coast National Wildlife Refuge. The Motus Wildlife Tracking System is a Bird Studies Canada project in which passive towers are installed that can pick up signals from tiny transmitters placed on birds. Currently there are six towers installed in Texas which have picked up signals from a Swainson's Thrush and a Canada Warbler, both banded in Colombia as they migrated through our area. This system has the potential to monitor thousands of birds as they move through our environment and has tremendous potential to fill gaps in our knowledge concerning bird movements. As part of this project we will be deploying Motus tags (called nanotags) on American Oystercatchers so we can learn more about their movements on the Texas coast.
---
Volunteers Galore at GCBO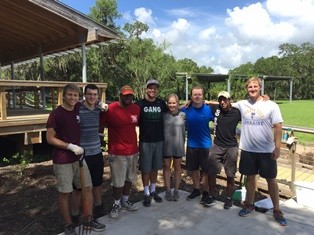 July has been another busy month with lots of volunteers working on various projects. A group from Phillips 66 in Sweeny came out on a Saturday morning and did lots of pruning and cleaning in our flower and native plant gardens.The group members were summer interns from all across the country. Their young energy and enthusiasm had great results.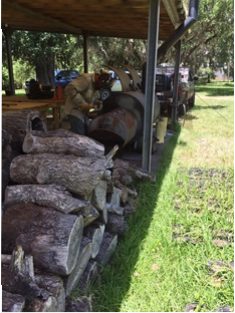 Ashley Reed brought his welding rig out to GCBO and repaired the lid on one of the fire boxes of the large BBQ pits and then fabricated a grate to allow cooking over direct heat. Thank you for your expertise!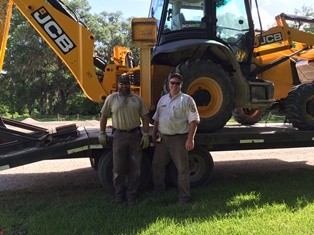 And the San Bernard unit of the USFWS refuge system sent their heavy equipment operator and a backhoe to spread and level 200 tons of crushed concrete. The parking area is now a parking area and the circle road is usable in wet weather.
All our volunteers and partners enable GCBO to do much more with our limited resources. Thank you!
---
GCBO Mid-Year Appeal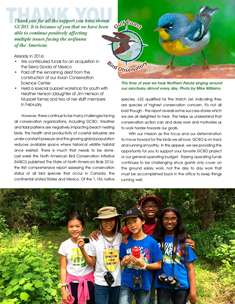 Thank you for all the support you have shown GCBO! It is because of you that we have been able to continue positively affecting multiple issues facing the avifauna of the Americas. Already in 2016:
We contributed funds for an acquisition in the Sierra Gorda of Mexico

Paid off the remaining debt from the construction of our Avian Conservation Science Center

Held a special puppet workshop for youth with Heather Henson (daughter of Jim Henson of Muppet fame) and two of her staff members in February
However, there continue to be many challenges facing all conservation organizations, including GCBO. We have chosen six of our programs to focus our mid-year appeal on and you can choose which you would like your donation to be applied to. These include American Oystercatcher, Beach Nesting Birds, Smith Point Hawk Watch, GCBO flood recovery, Summer Bird Camp, and General Operations. Click on the image above (or here) to read more about these important programs. You can print out the donation slip from there or contribute directly on the JustGive website. Thanks again for all your support!
---
Smith Point Hawk Watch Photography Workshop
(reduced price)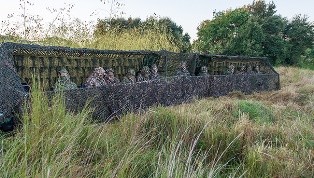 photo by Michael Gray
GCBO is pleased to host a Photography Workshop at the Smith Point Hawk Watch on October 1, 2016 with famed photographer Alan Murphy. Alan is an award winning photographer with numerous publications, a Nikon Professional Service member, a Wimberley Professional Service member, and the author of many instructional ebooks and videos. He leads numerous photography workshops throughout North America which are normally sold out almost immediately. We are offering a morning with Alan at the Smith Point Hawk Watch to refine your raptor photography skills for only $400. This is a real bargain! Check out Alan's Photography at his website. You can find out more on the Smith Point Photography Workshop here along with how to register. This workshop is limited to 12 people.
---
Experiences Auction - Katy Prairie Birding Trip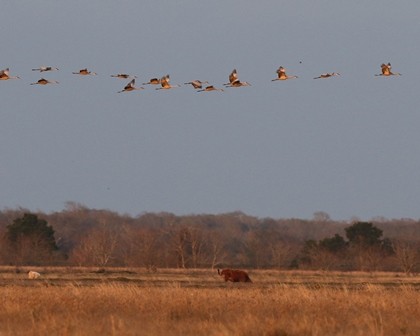 From Jackie HIcks - Experiences Auction Winner
What a great job Steve Gast did educating us on the Katy Prairie as part of our experiences auction event. We were fortunuate to visit several of the prairie land tracts and learn about what the conservancy is doing to acquire, protect, and rehab this amazing area just west of Houston. And of course, there was great birding. The day started with a Bald Eagle snacking on a fresh fish from the lake and ended with us helping with the Sandhill Crane count that Steve is shepherding. Watching over 1200 sandhills come "home to roost" from all directions was a great ending to a very interesting and educational day. Thanks to Steve for a great experience and for his ongoing support of GCBO.
Purchase your "experience" in November 2016!
---
GCBO Wish List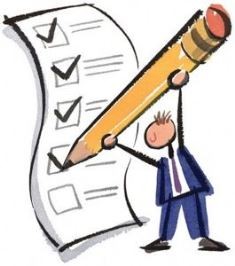 Our wish list has shrunk considerably! Thanks to all who donated. There's only a few items left. Can you help us out? Take a look and see if you can donate any of these items. We will be happy to provide you with a tax donation letter for your efforts!. Thanks so much.
40 inch tv or bigger
washing machine
several loads of crushed concrete ($200 value)
stackable plastic chairs for hawk watch (up to 20)
---
Monthly Bird Banding at GCBO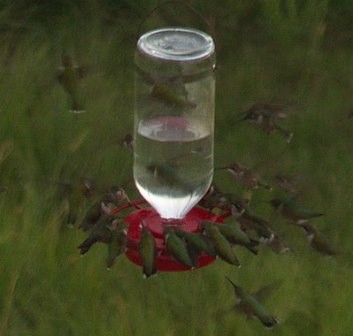 Photo by Tony Leukering
It's August and if you're a bird that means it's fall. Migrating Ruby-throated Hummingbirds have already begun to arrive in our area and more are on the way (see XHX above). Other migrants have begun to show up too and we may catch some! Come join us and see what turns up in the nets this month. Bird banding will be on Saturday, August 20 from 8:00 until noon. Remember, the birds get up early so the earlier you are here the more you'll see. Seeing birds in the hand is a great way to get kids young and old excited about wildlife. See the map on our webpage for directions or use your GPS to take you to 299 Hwy 332 West, Lake Jackson, TX.
Photos courtesy of GCBO staff except where noted.