---
---
Thank You for supporting Silver & Black Give Back
We would like to thank everyone who attended the Bruce Bowen Jersey Retirement Luncheon, presented by H-E-B, on Monday, March 19th.
Your support of Silver & Black Give Back youth programs, such as the Team Up Challengeand youth sports programs like the Spurs Youth Basketball League, allows us to continue to engage young people to enrich their communities.
Click here to view the Silver & Black Give Back video that ran during the event!
---
Vote for Your Favorite Team Up Challenge Project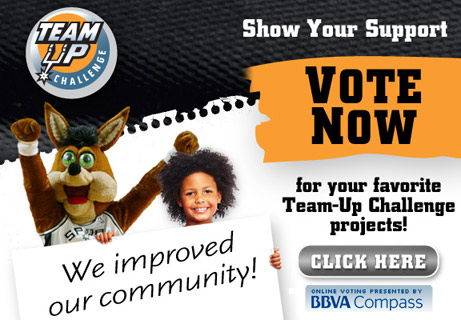 All season long our Team Up Challenge students have been working to make a positive impact in our community. Go to TeamUpChallenge.com and vote for your favorite project today, and every day, through April 2.
Five Team Up Challenge Champions will receive $20,000 for their work in our community!
---
Spurs Family Fiesta Medal On Sale Now


It's never too early for Fiesta! This year our medal highlights our Spurs Family. Get yours and show off your family pride.
Fiesta medals are $10 each. Proceeds benefit Silver & Black Give Back.
Click here
to buy your medal today or visit Silver & Black Give Back's table at section 105 during Spurs games.
---
Rampage Players Plant Gardens with Team Up Challenge Students


Rampage players Bracken Kearns and Justin Vaive spent an afternoon with Team Up Challenge students at Zachry Middle School planting their community garden.
The group cleared weeds and then planted onions, brocoli, and more. Zachry Middle School's Team Up Challenge project is working to increase the awareness of the dangers of unhealthy eating and Diabetes. They have made PSAs for their school, sent out home gardening kits from The Dinner Garden, and created the community garden to promote healthy lifestyles.
---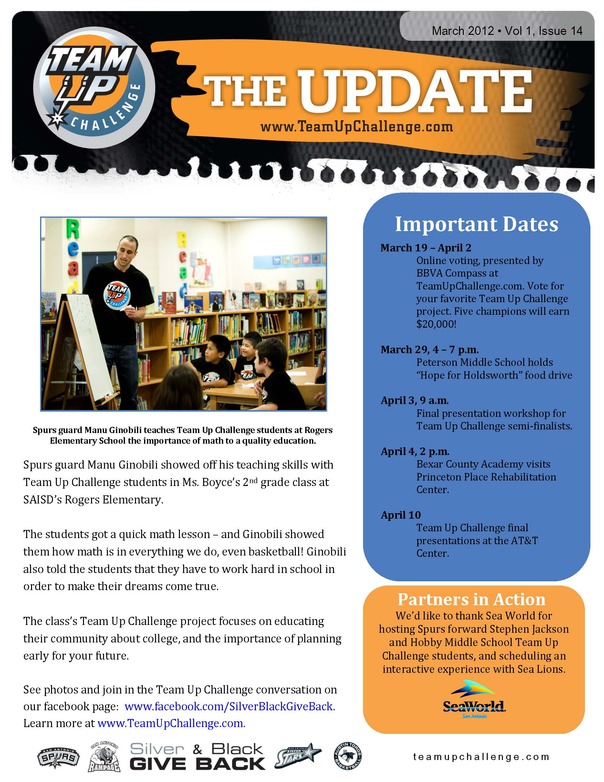 ---
To invest in the Team Up Challenge and our Youth Sports Programs, please click the button below:

---